How much does delivery cost?
Our delivery fee covers picking up the item, transporting it to your location, delivering and assembling it in your room of choice. The pickup process includes inspecting the item to ensure it matches the listing, simple disassembly when necessary, wrapping to protect it from damage and packing in the van. At time of delivery, our team will deliver it to your room of choice and assemble, when necessary.
Fee breakdown:
We offer the simplest delivery fees out there! I We have four categories: small, medium, large and extra large. Most items fall under the large ($94) flat-rate delivery bracket. Small items carry a $20 delivery fee, medium items get delivered for $54, and extra large items start at $144 (items such as china cabinets, etc).
Extra large items tend to require an extra delivery team member and additional time to complete - hence the extra cost.
Really want to get into it? Here's the breakdown:
| | | | |
| --- | --- | --- | --- |
| Small ($20) | Medium ($54) | Large ($94) | Extra Large ($144) |
| Wall art, Pillows Throws, Table and Desk Lamps, Candles, Picture Frames, Wall Decor, Planters, Other Decor, Ceiling Lamps, Wall Lamps, Curtains | Headboards, Accent Chairs, Armchairs, Benches, Dining Chairs, Office Chairs, Ottomans / Footstools, Stools, Rugs, Mirrors, Chest / Trunks, Nightstands, Coffee Tables, Side Tables | Dining sets, Cribs, Daybeds, Full beds, King beds, Queen beds, Twin Beds, Nursing Chairs, Recliners, 2 Piece Sectionals, 2 Seater Sofas, 3 Seater Sofas, Chaise Lounge, Futons, Loveseats, Sofa Beds, Bookcases, Dressers, Media Storage, Shelves, Sideboards / Credenzas, Changing Tables, Desks, Dining Tables | Loft and Bunk Beds, 3+ Piece Sectionals, Armoires / Wardrobes, Wall Units |
Want a discount on shipping? Purchase multiple items from the same seller and get up to 70% off your second, third and fourth item!
Additional questions about our fees? Please see the following graphic depicting what our delivery fee covers: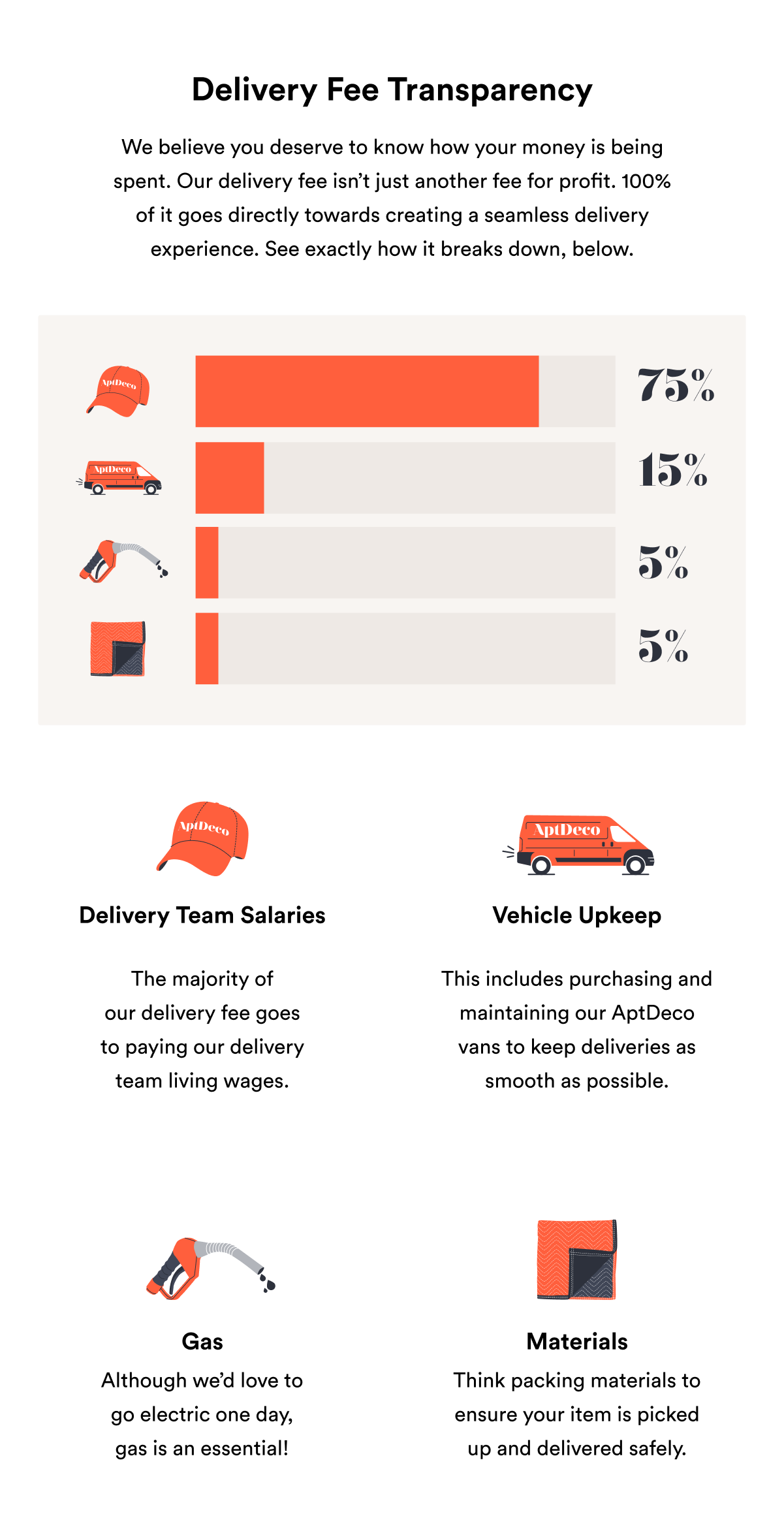 ---
---